[레오미터] 유변학교육용 및 QC용 경제형 레오미터 HAAKE Viscotester iQ Rheometer!


A new rheometer for rheology education and for the next level of quality control - Introducing the
Thermo Scientific HAAKE Viscotester iQ Rheometer: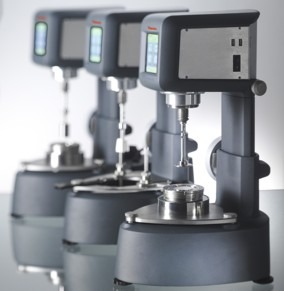 THE NEXT GENERATION RHEOLOGY EDUCATION & QUALITY CONTROL RHEOMETER
The Thermo Scientific™ HAAKE™ Viscotester™ iQ rheometer
The new Rheology Education and Quality Control rheometer easier to operate, more intuitive and highly modular Reproducible measurements with "Connect Assist" coupling and automatic recognition of measuring geometries as well as temperature modules and instrument feedback for measuring optimization Easy and intuitive operation via touchscreen panel or by using the unique Thermo Scientific™ HAAKE™ Viscotester iQ RheoApp™ software on a USB flash drive to provide extended capabilities. Alternatively fully software controlled using Thermo Scientific™ HAAKE™ RheoWin™ software with automated measurement, evaluation, pass/fail analysis and documentation Find out all about the next generation of Quality Control rheometers and how it helps you in MCIK's MC seminars.
Increased Flexibility with the HAAKE™ Viscotester™ IQ Rheometer
The new Thermo Scientific HAAKE Viscotester IQ provides increased flexibility and smarter analysis by automatically adjusting to a user's measurement routines and conditions. With exchangeable measurement modules and a variety of operation choices, the Viscotester IQ delivers results quickly while allowing the user to tailor the instrument to his or her individual needs.

Increased Flexibility with the HAAKE Viscotester IQ Rheometer
- 동영상 시청을 원하시면 위 사진을 클릭하세요.


HAAKE Viscotester iQ Rheometer for Quality Control
-동영상 시청을 원하시면 위 사진을 클릭하세요.
HAAKE™ Viscotester™ IQ Rheometer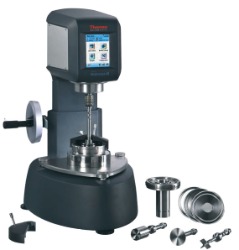 Measure and analyze the rheological properties of a wide range of different samples. Increase efficiency and minimize the risk of operator errors.

With the Thermo Scientific™ HAAKE™ Viscotester iQ Rheometer we provide an intelligent solution for your daily rheological challenges. Designed for intuitive operation, the HAAKE Viscotester iQ Rheometer adapts to individual measurement requirements in laboratories focused on quality control.

This HAAKE Viscotester iQ Rheometer sets new standards in modularity, ease of use and intelligent user guidance. It is the instrument of choice for simple viscosity determination as well as for complex rheological investigations from low viscous liquids to stiff pastes and semi-solids. Used as a standalone unit or fully software controlled, its compact size and small footprint makes the Viscotester iQ Rheometer a portable unit for mobile use or a major tool in quality control laboratories.



The development of the next generation Viscotester was driven by the demands of new rheological tasks in quality control. We combine decades of experience in rheology with solutions designed for highly dynamic working environments. Our goal is to enable fast, reliable and precise rheological measurements with maximum ease of operation.
Individual
Meeting your demands in QC
Easy exchange between different measuring configurations for fast setup and operation
Comprehensive portfolio of measuring geometries and accessories to tailor your instrument
Highly dynamic, powerful EC motor for flexibility across a range of materials and measurements
Exchangeable self-sufficient Peltier or liquid controlled temperature modules for maximum flexiblity
Multiple means of operation: Standalone, with new HAAKE Viscotester iQ RheoApp, or fully software controlled to match your level of usability


Intuitive
Making QC more convenient for your laboratory
Breakthrough concept self-explaining in setup and handling for error-proof operation
Smart lift function for convenient, accurate and reproducible gap setting
Measuring geometries designed for optimized handling and easy exchange
Correct and precise sample filling for parallel plates for ultimate measuring accuracy


Intelligent
Guiding your operators through every measurement challenge
Convenient touch screen display for visualization of numerical and graphical measurement sults
Intelligent user guidance for measuring and evaluation procedures, selection of suitable jobs with indication of available measuring range
"Connect Assist" quick coupling of measuring geometries and temperature modules with perfect alignment, automatic recognition and feedback for measuring optimization
"Temperature Assist" rapid real sample temperature control based on a dynamic heat transfer model


Ideal for Industrial QC
Food
Cosmetics & Pharmaceuticals
Mining & Construction
Petrochemicals
Polymers
Technical Data

Angular velocity: 0.001 to 157 rad/s
Angular resolution: 1.25 rad
Torque range: 0.2 to 100 mNm
Torque resolution: 0.01 mNm
Shear stress range*: 0.7 to 63660 Pa
Shear rate range*: 0.004 to 11415 s-1
Viscosity range*: 0.001 to 600000 Pa s
Measuring geometries: coaxial cylinders, double gap cylinder, parallel plates, vane rotors
Temperature range:
TM-PE-C (Peltier): Coaxial cylinders: -5°C** up to 160°C, Parallel plates: 0°C** up to 140°C
TM-LI-C (Liquid): Coaxial cylinders: -20°C up to 180°C***, Parallel plates: -10°C** up to 160°C
Interfaces:
TCP/IP: for communication with PC
USB: 1 port for USB flash drive for HAAKE Viscotester iQ RheoApp, 1 port for keyboard or barcode reader
Dimensions (W x D x H):**** 270 x 500 x 500 mm
Weight:**** 18 kg
Autoswitch power supply: 100 to 240 VAC, 50 / 60 Hz
* Depending on the measuring geometry used. Calculated theoretical values.
** Depending on ambient temperature.
*** Depending on the circulator model and the bath liquid.
**** HAAKE Viscotester iQ incl. Peltier temperature module, heat exchanger and measuring geometry.


Scientific Resources
(아래 자료 수신을 원하시면 infor@mcik.co.kr 에 연락 바랍니다)
- Flow Behaviour of Chocolate Melts- Working according to ICA Standards In QC the rheological characterization of chocolate mainly focuses on its viscosity and yield stress. The HAAKE Viscotester iQ is a compact instrument with the right combination of sensitivity an strength to successfully test chocolate melts over a wide range of shear rates.

- How much squeezing power is required to get the toothpaste out of the tube Yield stress determination using the HAAKE Viscotester iQ. The determination of the yield stress is an important rheological parameter to understand if a toothpaste meets the expectation of the customer target group.

- Investigating the thixotropic and shear recovery behavior of paints and coatings using the HAAKE Viscotester iQ Measuring the thixotropic behavior is an important method to evaluate the performance and applicability of paints and coatings.

- Measuring Yield Stress to Correlate Slump of Concrete and Cement Paste The vane method on the HAAKE Viscotester iQ is a quick, simple and accurate approach to measure the yield stress of cement paste and concrete. Download 536kb

- QC Tests on Cosmetic Emulsions with the HAAKE Viscotester iQ The HAAKE Viscotester iQ is a compact instrument with the right combination of sensitivity and strength to successfully test a wide range of samples with different QC methods in controlled rate (CR) or controlled stress (CS) mode.

- Spreadability of Cream Cheese - Influence of Temperature and Fat Content The vane method on the HAAKE Viscotester iQ is a quick, simple and accurate approach to understand spreadability and customer acceptance of spreadable foods like cream cheese.

- Viscotester iQ Brochure The Viscotester iQ rheometer is the instrument of choice for acquiring simple viscosity curves, or for complex rheological investigations covering measurements of low viscous liquids up to highly viscous pastes.

- Yield stress of jam, chocolate spread and peanut butter measured with HAAKE Viscotester iQ and vane rotors The HAAKE Viscotester iQ equipped with the universal container holder and a vane rotor allows efficient, high throughput measuring routines for spread QC testing, using samples in their original containers with intact sample structure.